VINE AND DINE WITH BOARDWALK GRILLE
| | |
| --- | --- |
| Date: | Thu, Sep 24, 2020 |
| Time | 5:00 PM to 8:00 PM |
| Venue: | Free State Cellars |
| Contact: | Grace Hernandez, |
| Phone: | 409-221-7232 |
| Email: | info@freestatecellars.com |
Iconic pairings - PB&J, jeans and t-shirts, salty and sweet - you get the picture.
But one combo beats them all - wine and steak!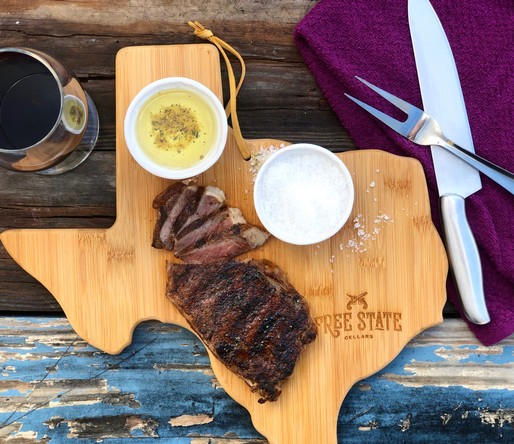 Jake LeMoine, owner of Orange's Boardwalk Grille brings his fire skills to Free State on Thursday 9.24.2020! Treat your taste buds to a tender and juicy 8 oz. filet, grilled to perfection under the summer sky in our beautiful patio. If that isn't enough to make your mouth water, it'll be served with his signature jalapeno cheddar mashed potatoes and parmesan brussel sprouts. Enjoy with a carefully selected wine from our rich reds or our crisp whites. Will you discover a new favorite?
A great wine provides an acidic tang and a delightful sweetness that pairs perfectly with the salty, fatty, umami butteriness of a steak elevating the flavors of both. Take a swig and delight in the flavor sensation of a great wine with a great steak pairing
Enjoy live music by JP Primeaux to accompany the evening. Doors open at 5:00 p.m. Music and dinner start at 6:00 p.m.
Smuggler's Union Wine Club Members have priority access to tickets Tuesday 9.15.20 and Wednesday 9.16.20. Ticket sales will be opened to the general public on Thursday 9.17.20 through Sunday 9.20.20. YOU MUST SIGN IN AS A WINE CLUB MEMBER FOR INITIAL TICKET SALES. Go to the SHOP tab on the Menu Bar and select the EVENTS drop-down menu for ticket purchases. Be sure to include your preferred steak temperature in the notes in your check-out cart.
Join the Smuggler's Union and Uncork Your Own Legend.