SIMON & GARFUNKEL Feb 2 @ 7:30 pm MACARON BOX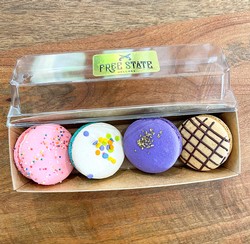 These dainty, delicate and delicious meringue-based cookies provide a perfect sweet note to enjoy with our craft wine and sangrias.
Free State Kitchens creates delicious savory, green, or dessert charcuterie to-go boxes, boards and grazing tables, creatively tailored to our guests appetites and inspirations. We curate cheese, cured meats, crudités, sweets, desserts & all kinds of different accompaniments using the finest ingredients, including organic and locally grown products to enjoy with the small-batch, artisanal wines produced right here at Free State Cellars.