About Free State Cellars
---
UNCORK A BOTTLE. CREATE YOUR OWN LEGEND.
---
Amid a 19th-century border dispute between two young nations, the moss-draped swamps here on the Texas-Louisiana border sheltered the 40-mile stretch of the No Man's Land known as the "Free State of Sabine." Fleeing justice, the lawless and seditious haunted these backwaters and bayous, proclaimed Neutral Ground between the United States and Spain. Within this famed Devil's Playground, treasures were buried, legends were forged, and the independence of the Texas nation was born. Our extraordinary wines reflect the adventurous mythos of these saints and sinners in this place we call home.
Winemaking is simple: dedication, quality fruit, and joie de vivre (Cajun French for "joy for living"). Our handcrafted wines embrace the unique expression of Texas fruits. And since eating well is a way of life here in the South, we create all our wines around the global flavors that permeate our local culture.
Our estate vineyard was planted by one of Texas' wine pioneers, Alfred J. Flies. Honored by the Texas Wine and Grape Growers Association on four separate occasions for his contributions to the Texas wine industry, his wines received over 70 wine competition medals including ten belt buckle awards, representing four International Best of Class honors and six Texas Best of Class from The Houston Livestock Show and Rodeo Wine Competition. Taste the very best of his work in our Heirloom Wines collection.
Building on iconic estate wines, our Texas Select Wines are bursting with pure expressions of the rich, diverse terroir of the Hill Country and Texas High Plains, with old world varieties like French Viognier, German Riesling, California Ruby Cabernet, and Spanish Tempranillo.
Our winemakers celebrate the bounty of the Lone Star State and love experimenting with country wines that highlight regional fruit favorites like peach, blueberry, blackberry, and strawberry.
---
Our Vineyards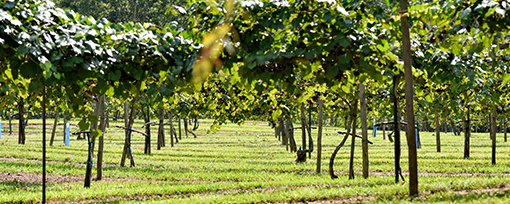 Our Team