Our Estate Vineyard
---
Established over 35 vintages ago, our estate vineyard features both black and bronze muscadine grapes. Known as a "super fruit," muscadine is America's only native grape and boasts incredible flavor and color thanks to the hardiness required to survive our harsh coastal summers.
---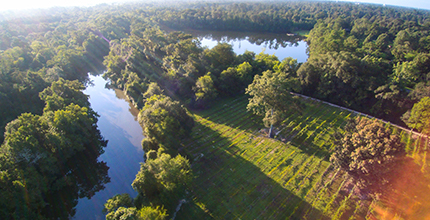 ADAMS BAYOUS VINEYARD
The vineyard was built in 1984 and covers seven acres with over 1,000 vines. Our muscadine varieties, Noble (black grapes for red wines) and Magnolia (bronze grapes for white wines) are both known for their delicious flavors.