SEMI-PRIVATE EVENTS
Free State Cellars Winery is now offering a unique outdoor venue to accommodate semi-private events of groups of 20 to 75 people. Located next to our tasting room and venue stage, this facility is the perfect place to host celebrations like bridal or baby showers, birthday parties, and anniversaries. Located on our beautiful property, the patio is surrounded by a private vineyard and overlooks our tasting room, patio, and vines. This lovely space includes seating and service areas to make your party easy and successful. With the option of a private bar, guests can enjoy food, wine and cocktails with their party.
Base Package – Starting at $700
Amenities:
Reserved space to host parties for two hours*
Tables and seating for up to 75 people
Free State Attendant*
Decorative lighting
Electrical
Trash receptacles
*This rental is a two-hour minimum and a minimum purchase of 4 bottles of Free State Cellars wine. Wine will be charged at the time of the event. Price per additional hour with one attendant is $350.
*Over 50 people requires an additional Free State Attendant @ $50 per hour
Add Ons:
LINENS – ($15 per table) White linens can be provided for all tables. We have 60" round tables, 72" rectangular tables, and 24" round cocktail tables available.
PRIVATE BAR – Custom Quote: If you would like to bring in outside alcohol (liquor & beer) for your event, you must utilize our private bar service (Gin Atomic Traveling Cocktails). A vintage mobile bar and bartender will be provided for you and your guests. The party host must provide all alcohol, although we are happy to recommend quantities. No outside wine or sangria allowed on the property. We do not allow self-service alcohol on property. A security officer is required with bar service and will charged hourly.
CATERING – A limited catering menu of charcuterie, sandwiches, dips, cakes, and grazing tables are available from the Free State Kitchens, listed below. These items can also be delivered or picked up from our facility. Please call us for custom quotes to tailor the perfect fit for your event! Tax and delivery charges are additional.
Please Note: NO OUTSIDE FOOD IS ALLOWED AT FREE STATE UNLESS PART OF OUR FACILITY RENTAL PACKAGE. We do not allow catering during operating hours unless you are renting the private deck. Please see price list of our offerings below: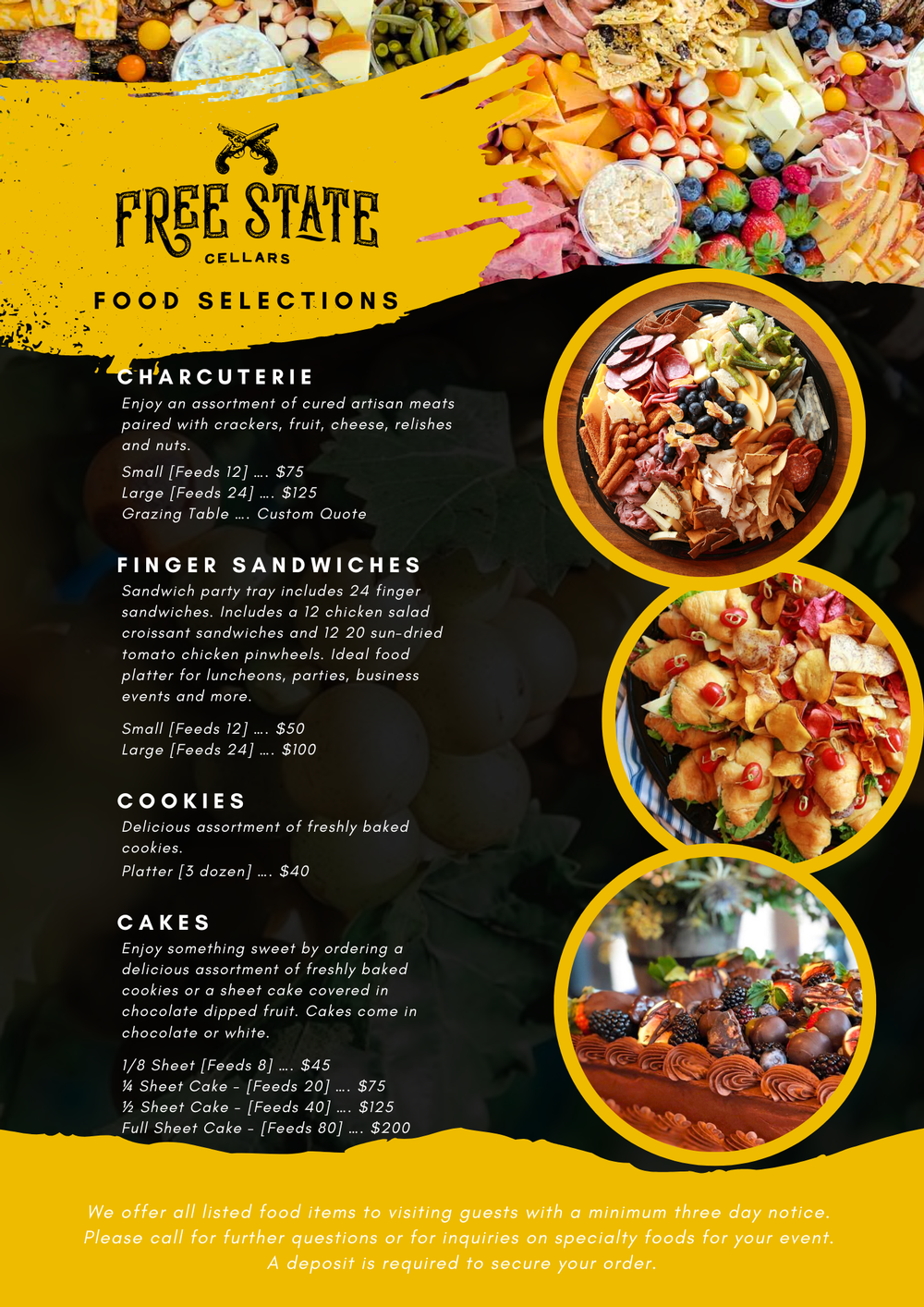 Important things to consider before booking:
We are an outdoor facility and do not have accomodations for an indoor event.
Currently, we are not hosting weddings, wedding receptions or rehearsal dinners. Please follow us to get the latest updates on venue rentals.
When bringing children to an event, all underage persons must be accompanied by adults and remain in the party area deck. As we have other guests, the public patio, private vineyard, tasting room and grass ditches are strictly off-limits. We do not allow minors to freely roam our property.
While setting up decorations for an event, users of event space must adhere to specific guidelines. Any space must be returned to standard set once the event is complete. All decorations must be approved, prior to the event, by Free State Cellars. Please note restrictions of the use certain materials in reserved spaces:
Nothing may be affixed to any wall, wood, furniture or painted surface by using putty, wire, tacks, staples, tape or any material that will harm the finish.

Adhesive on the floor must use non-residue (blue painter's) tape. All tape must be removed immediately after each reservation period. No tape may be left on the floor overnight. Clients will be billed for removal of any tape that remains after their event.

Helium balloons are not allowed in any space unless approved by an event coordinator one week prior to the event.

Glitter or confetti of any kind is not allowed in any space.

Open flames are not allowed in any space.
If you have any outstanding questions, please feel free to contact us and discuss your event ideas.
Mandy Hernandez | 409-221-7232 | info@freestatecellars.com | mandy.hernandez@freestatecellars.com
---
PRIVATE TASTINGS
Join us for a tasting that highlights our diverse collection, ranging from crisp whites, bold reds, and rich chocolates to bright muscadines and a handful of colorful fruit wines. This exclusive encounter is hosted by the Free State Cellars ownership offering historical insight into our estate lore.
This offering includes a private wine and charcuterie pairing for you and guests at our vineyard and winery, Free State Cellars, in Orange, TX. Tastings are two hour events at $40 per customer. (Minimum 6 guests, Maximum 12).
These tasting are only available Monday - Wednesdays. Please contact us prior to your visit to set up a reservation.
Mandy Hernandez | 409-221-7232 | info@freestatecellars.com | mandy.hernandez@freestatecellars.com
---
PRIVATE EVENTS
The entire facility and bar can be accessible for you and your guests for the day. Please be advised, we do not offer weddings at this time. Venue-only rental fee:
| | |
| --- | --- |
| Thursday | $3,000 |
| Friday | $10,000 |
| Saturday | $12,000 |
| Sunday | $3,000 |
Call Mandy Hernandez, Proprietor, for availability and to collaborate on your perfect event!
Mandy Hernandez | 409-221-7232 | info@freestatecellars.com | mandy.hernandez@freestatecellars.com