COMMUNITY HARVEST 2022
| | |
| --- | --- |
| Date: | Sat, Aug 27, 2022 |
| Time | 7:15 AM to 12:00 PM |
| Venue: | Free State Cellars Winery & Vineyard |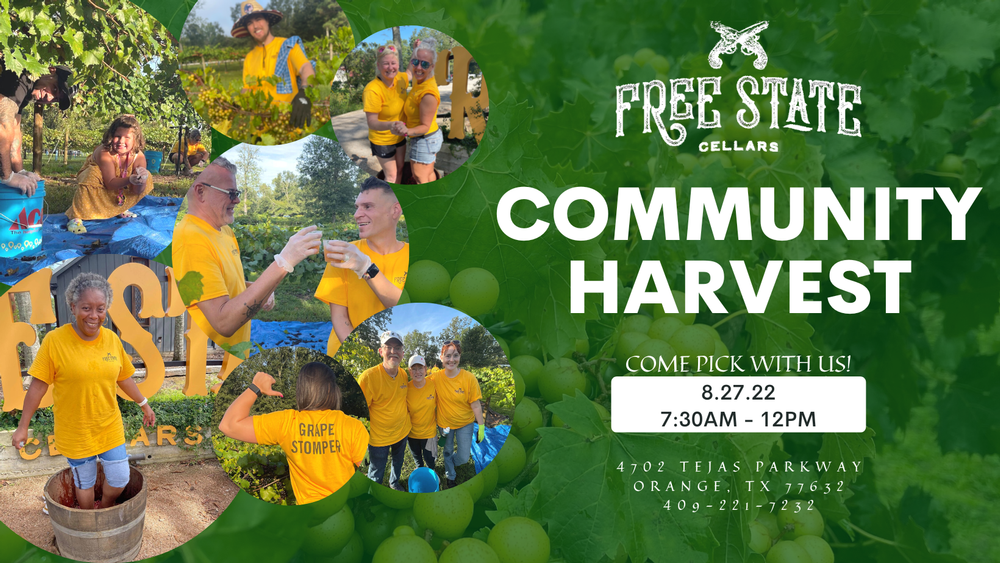 Now's your chance to experience the most hands-on part of our wine making: COMMUNITY HARVEST!
Saturday, August 27th • 7:15 am -12 pm. No ticket or registration needed, this is a free event!
On Saturday, August 27th we will be hosting our Community Harvest from 7:30 am -12 pm. Event information is listed below along with helpful tips about harvesting at a working farm! We are excited to open up our vineyard and show the Golden Triangle what it means to be part of the Free State Cellars Family!
-ITINERARY-
7:15 - 7:30 am - CHECK IN: Guests will sign in and receive a Harvest shirt (while supplies last) and be welcomed to Free State!
7:30 am - Harvesting DEMONSTRATION
7:40 am - 10:00 am - HARVEST! The Free State Cellars Family will be working alongside you. Their role is to assist, guide and answer any questions you may have!
10:00 am - 11:45 am - Complimentary BRUNCH AND ENTERTAINMENT for our harvesters. Food will be catered and live music by [TBA]. There will also be a grape stomping photo opportunity during this time!
Our tasting room will remain open for full service from 12pm - 8pm
-IMPORTANT INFORMATION-
CHILDREN: We are family friendly and children are more than welcome to participate but MUST be supervised at all times.
ATTIRE: Harvesting is hot and involves a lot of movement. We advise you to dress casually and comfortably. Please bring appropriate heat protective clothing.
TOPOGRAPHY: Free State Cellars is a working vineyard. This event entails walking on unlevel grassy areas.
WILDLIFE: We are a working farm and coexist with the wildlife on Adams Bayou. Wild animals, bees, ants, and various insects are occasionally present in the vineyard. We ask that you stay aware of your surroundings and remove yourself from any hazardous encounter. We do not permit swimming on our property at any time and ask that you stay away from water areas.
HEAT ADVISORY:
We will be working outdoors for several hours. Breaks will be frequent and at guests' own leisure. Water and Powerade will be provided and we also encourage you to bring your own reusable bottles. We highly advise you to be prepared with sun screen and appropriate protective clothing.