Tempranillo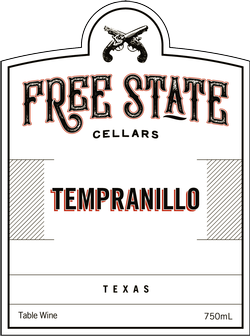 Tempranillo is the great red grape of Spain that has found a favored home in the soil of the Texas High Plains. It has become a favorite among dry red lovers because of its bold earthy texture and hints of cherry taste. If you've never tried Tempranillo before, you will find it has a similar taste profile to both Sangiovese and Cabernet Sauvignon. With oak and age, you'll find more of the dust, tobacco, and leather flavors serious wine fans crave.
In love with fall foliage? Tempranillo is one of the few varieties where the leaves turns bright red in the fall. It's one of the most beautiful sights in the vineyard.
Tempranillo pairs well with all types of food because of its savory qualities. Enjoy its earthy goodness with your favorite Cajun and tomato-based entrees; barbecue grilled meats; smoky dishes; grits, polenta, and any dish with corn as a major ingredient.
Wine Specs
Vineyard Designation
Texas High Plains