Picnic Box - Individual 6.15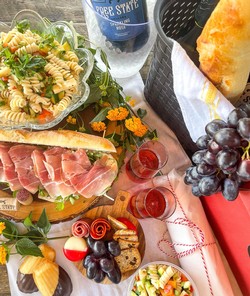 This purchase is for JUNE 15, 2023
Skip the line and pre-order individual Picnic Boxes for one online. Each picnic box includes: charcuterie bites, a Parisian-style prosciutto baguette sandwich, a garden-fresh veggie pasta salad, a sweet treat and bottled water. You can pick up your picnic boxes and bottles of wine at the Summer Moon Cafe.
Pair your picnic with Free State's artisinal small-batch Summer Wines by the bottle:
A Texas cousin to Chardonnay with characteristics of buttery pears and peaches, our Viognier is a full-bodied white wine with delicate floral notes and a medium to low acidity. Our slightly off-dry style embellishes its peachy attributes.
Our cuvée of Texas High Plains Ruby Cabernet and Zinfandel, Rio Dulce offers an elegant alternative to the ripe and powerful body of a bold Cabernet. The complementary natural acidity combined with Zinfandel's focus on red fruits, makes this wine fruit-forward, bright and spicy with a soft, tight finish.
The most delicate shade of pink, gently aged before release, this Sparkling Rosé offers the crisp stone fruit and red fruit aromas of Pinot Noir and citrusy, bready notes of Chardonnay, combined with vibrant acidity and energizing fine bubbles. The subtle mineral undertones give the wine great structure and elegance.
Wine, sangria, and lemonade by the glass will be available to purchase at Shangri-La at the Gin Atomic Traveling Cocktails camper. A limited supply of extra picnic boxes will be available for purchase as well.
Need more information about the event? [FB CLICK HERE] We can't wait to see you and Mother Nature there! Cheers!