Cajun Classic Chili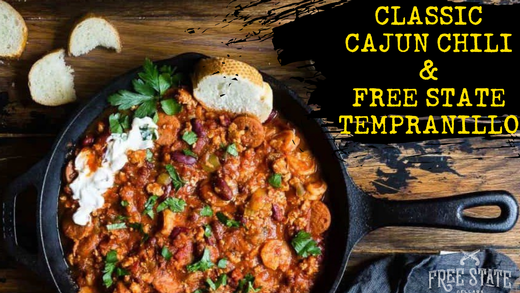 Recipe Date:
January 11, 2022
Measurements:
Imperial (US)
This recipe is one I have adapted from my Cajun-French roots. It's packed with spicy notes and punches of juicy freshness! This Texa-Cajun mashup is exactly what you'd expect without the hefty load of gluten and dairy. Get ready to pull all your spices out of the cabinet because there is a little something for everyone to enjoy! You'll come back for seconds as notes of paprika, cayenne pepper, zesty garlic and onion liven up the Louisiana andouille sausage, ground chicken and tender shrimp. Say what you will about chili, but my favorite part of creating this one-pot meal is the MEAT. Packed with creamy tomato flavor profiles and chewy kidney beans, these crazy-delicious flavors are developed in just HALF AN HOUR. The only thing that could make this big, steaming bowl of southern-inspired chili even more rich and enticing? Our bold red wine, Tempranillo. This fruit forward, medium bodied red is smooth enough to handle the spice and strikes the perfect balance between acidity and tannin content.
Ingredients
2 Bay Leaves
1/2 tsp Sea salt
2 1/2 tbsps Cajun seasoning
1 14.5oz can of fire roasted tomatoes
2 Links of andouille sausage, sliced
1 14oz can of crushed tomatoes
1 1/2 cups Diced onion
2 tbsps Tomato paste
Fresh parsley (for garnish)
1 tbsp Minced fresh garlic
Sour cream, or Greek yogurt for garnish (optional)
1 1/2 tbsps Olive oil, divided
1/3 cup Diced celery
1 lb Ground chicken or turkey
1 15oz can red kidney beans (drained and rinsed)
7 ozs Raw shrimp (peeled and deveined)
1 Green pepper, diced
Directions
Directions
1. Turn your Instant Pot to sauté and heat 1 tablespoon of the olive oil.
2. Once hot, add in the green pepper, onion, celery and garlic and cook until they begin to soften, about 4 minutes.
3. Add in the remaining 1/2 tablespoon of olive oil, as well as the chicken. Cook, breaking up the chicken, until it is no longer pink and has released all its juices. (about 2-3 minutes.) Drain out the liquid and discard it.
4. Add in the sausage and Cajun seasoning and cook, stirring frequently, until the sausage begins to brown, about 5 minutes.
5. Add all the ingredients, up to the shrimp, and stir until well mixed.
6. Cover the Instant Pot (making sure it's set to 'sealing') and press manual. Cook it on high pressure for 10 minutes (this should be the setting it automatically goes to once you press 'manual.')
7. Once cooked, let it pressure release naturally.
8. Remove the lid and turn the Instant Pot to sauté. Add in the shrimp and cook, stirring occasionally, until the shrimp are opaque and the chili has reduced and thickened slightly, about 5-7 minutes.
9. Garnish with parsley
10. Pour a generous glass of room temperature Free State Cellars Tempranillo wine to pair with your meal and ENJOY.