Zinfandel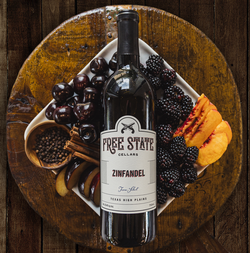 Late-ripening Zinfandel has jammy flavors bursting with fruity aromas of blackberry, cherry, plums, black pepper, and cinnamon. A full-bodied wine that is high in alcohol content, Zinfandel has a "fruity meets spicy" kick with a smoky body.
Every red Zinfandel has a sweet fruity quality with a finish of spice and tobacco. Quite a dark, powerful wine, but slightly lighter in color than Cab Sauv or Merlot. Due to a very high alcohol content, its texture is oily. It has a very good body that is generally considered slightly sweet and very similar to Grenache.
The hearty bold flavors in Zinfandel make it a natural companion for the rich and flavorful world of BBQ that will embellish the wine's cinnamon-spice subtleties.
Wine Specs
Appellation
Texas High Plains
Vineyard Designation
Lahey Vineyards