Viognier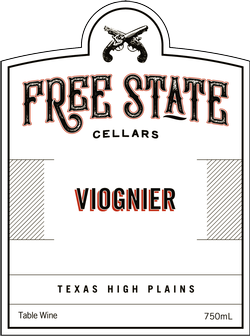 Viognier from the High Plains is the Texas grape grower's answer for dry white wine. If you like Chardonnay, you'll like the weight of Viognier and notice it's a little softer on acidity, a bit lighter and also more perfumed. The best wines are begun in the High Plains sunny regions with temperatures moderated by cool nights. The cool weather maintains Viognier's precious acidity.
Our full-bodied Viognier is a fresh and perfumed wine, aged in stainless steel to deliver lighter, more floral and tropical fruit flavors while maintaining its acidity. It has a crisp pear finish and is the perfect dry wine to compliment your favorite dishes.
The trick to pairing foods with Viognier wine is to fully respect its delicate floral notes and medium acidity. Thus, as a general rule, focus on embellishing and expanding the wine's core flavors of pear, peach, tangerine and honeysuckle while making sure the foods you pair with aren't too acidic or bold. Spicy Asian food is an interesting complement to the natural sweetness in Viognier.
Wine Specs
Appellation
Texas High Plains
Vineyard Designation
High Plains