Thirteen Years
Dry Red Texas Wine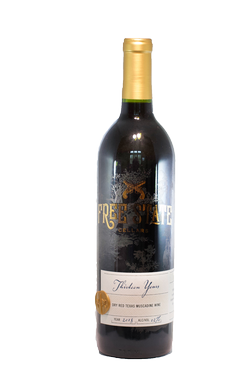 After only 13 years, the disputed No Man's Land of western Louisiana, where pirates and pioneers alike called home, dissolved. But the legends of the saints and sinners that haunted these backwaters linger to this day, like the richness of this dry wine.
Unlike most muscadines, we leave our medium bodied red dry with a medium-plus acidity surging with intense flavors of ripe banana followed by subtle notes of lime, honeydew, and cranberry. Earthy salinity and sharp pine haunt the palate long after the sip is gone.
We love pairing Thirteen Years with savory Texas barbecue and smokey spiced meat such as Andouille sausage and chorizo.